I
previously mentioned
that Jacob saved me from Lethal Wrist-Destroying Virus by eating the cuff from a hoodie which he told me had somehow become infested. Little did I know just how far he had gone to protect me!
It turns out that he'd also eaten the handle from a nice little laptop bag. Wow! That LWDV really gets around!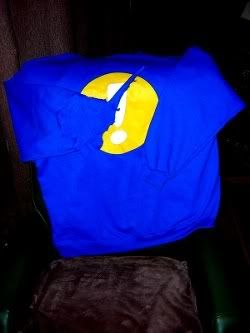 Thanks to Tasha for the use of her recliner to pose the hoodie on, and I (almost) sincerely apologize for using the Dyson hand vac to move her out of it!